Plastic Recycling Granulator in Japan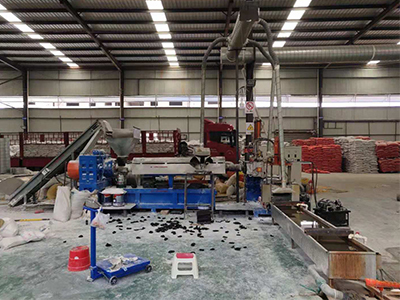 Through the introduction of an old customer, a customer from the plastic processing industry in Japan told us that he wanted to build a plastic recycling granulator on June 10, 2017. The customer wanted to produce ABS materials with an output of 300kg/h. Besides, the voltage in Japan is 200V. Considering that Japan plays more attention to environmental protection, the discharge of exhaust gas and waste water in workshop is forbidden. Thus, HaoSu customized the following solutions based on customer requirements and the conditions in Japan:
A water cooling extruder granulator line was customized with an output of 300kg per hour.
A special motor and special electrical equipment for 200V are equipped to this plastic processing line.
Exhaust gas cleaning equipment is equipped for the gathering and centralized processing of exhaust gas generated in heating process to meet the emission standards.
Our factory has over 30 sets of CNC lathes in the production of plastic processing equipment, such as feeding sawing machine, CNC gantry machining center, CNC screw milling machine, CNC deep-hole boring machine, and cylindrical grinder. Meanwhile, with the adoption of more technologies into plastic recycling, CAD/CAM continues to grow in importance. Thus during the whole manufacturing process, our experienced engineers and technicians utilize CAD/CAM engineering approaches to optimize the entire operation. This allows us to supply high quality plastic machinery with optimal performance.