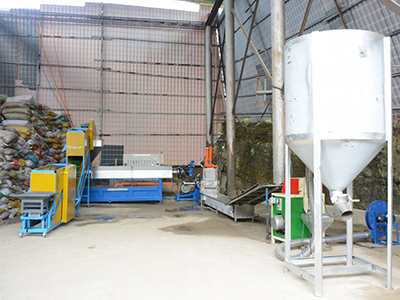 Introduced by other customers, the manager Lee in Vientiane contacted us to discuss a plastic recycling plant. He wanted to process PP plastics with a yield of 500kg per hour. According to the material pictures provided by customer, HaoSu sent the onsite video of granulating with the same materials to him through WeChat. After watching the video, he visited our factory, signed the contract and ordered the PP plastic pellets production line.
Problems
Because there are too many small metal impurities in PP plastic pellets, the screw can become stuck. Besides, it needs frequent screen changing, this will result in high costs. This customer wanted our plastic granulator line with continuous melt filtration to address this problem.
Solutions
HaoSu arranged two magnetic separators (waste plastic conveying feeder) for screening irons. The first feeder is for primary screening and the second feeder is a magnetic separator with conveying function, solving the problem of more metal impurities in PP. This plastic recycling plant also equips a continuous melt filter, capable of discharging most impurities during the production. The adoption of this recycling plant ensures smooth recycling process, convenient operation, saves labor cost and improves the production efficiency. This plastic granulating line can realize a yield of 500kg per hour, with easy operation.