Plastic Recycling Systems (Washing / Drying / Separating)
Whether you need to recycle waste plastic film, pipe, bottles, or agricultural waste, HS Machine offers an extensive range of custom plastic recycling systems to meet each of your needs.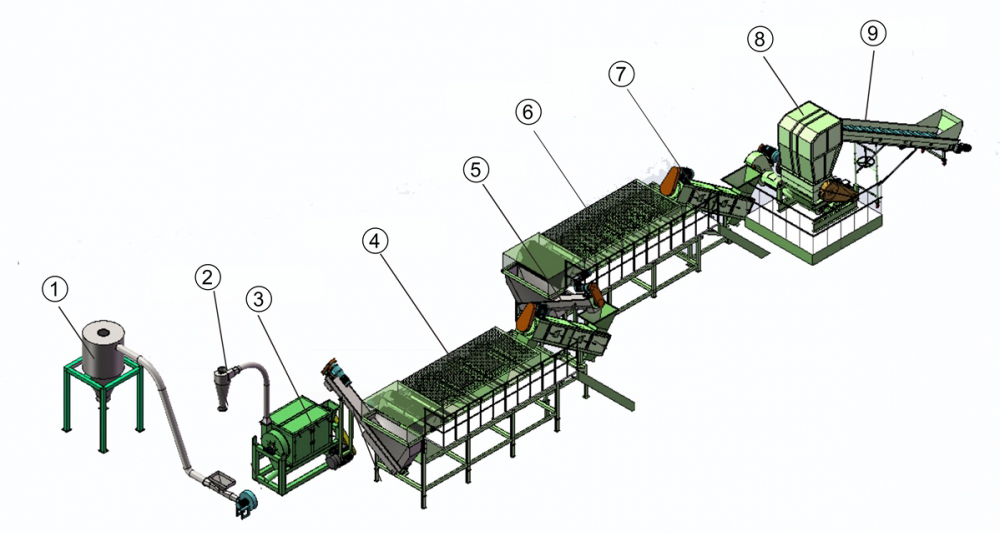 Silo
Cyclone Separator
Extrusion Dryer
Sink Float Tank
Screw Extrusion Conveyor
Sink Float Tank
Plastic Washing System
Shredder
Belt Conveyor
Once the sorting has been done, the plastic waste needs to be washed properly to remove impurities such as labels and adhesives.
To guarantee material cleanliness, shredded materials will be washed in a waste plastic washing tank-also called a sink float tank. Our washing tank is welded using a steel plate to give it an excellent corrosion and rust resistant.

This plastic film squeezing drying machine is a vertical plastic dryer and is intended to carry out the lifting and drying of flexible plastics such as a plastic film and woven bag after they have been cleaned. Using the screw drive, the vertical plastic dryer automatically lifts washed materials for simultaneous drying. With a 1500kg worth of material drying/hour, it fully replaces manual extracting processes. This guarantees an exceptional production efficiency and saves labor costs.

This rigid waste plastics drying machine is a thermal horizontal plastic dryer used to dry sheet materials from shredded plastic bottles. The thermal horizontal plastic dryer operates a plastic centrifugal drying through a high speed screw rotation. This equipment will process up to 1 ton of materials, with the dried materials containing only a 2 to 3% moisture content.
Haosu will design and manufacture a complete plastic recycling system, including washing, drying, and separating for a highly effective recycling process of used and contaminated plastic waste.
Washing Equipment
Processes for contaminated plastics include the removal of packaging materials such as foils and pallets/packaging straps. Any residues left behind such as paper labels or liquids inside the PET bottles are considered impurities and are removed via washing equipment.
Metal Detectors
Metal detectors are designed to detect and separate metal contaminants. They control the material flow in the metal search bridges on the product conveyor, stopping the conveyor when metal contaminants are detected. These contaminants are then removed in the float-sink process.
Drying Equipment
It is easy to carry out mechanical separation of coarse foreign materials using a vibrating screen or screen drum. Depending on further processing needs for the produced plastic flakes, they will be sent to residual moisture equipment so that they are fed to an extruder. These plastic flakes are then pre-dried using a mechanical centrifugal dryer. If needed, they will also be sent to the final drying process inside thermal dryers.
Our factory has over 30 sets of CNC lathes in the production of plastic processing equipment, such as feeding sawing machine, CNC gantry machining center, CNC screw milling machine, CNC deep-hole boring machine, and cylindrical grinder. Meanwhile, with the adoption of more technologies into plastic recycling, CAD/CAM continues to grow in importance. Thus during the whole manufacturing process, our experienced engineers and technicians utilize CAD/CAM engineering approaches to optimize the entire operation. This allows us to supply high quality plastic machinery with optimal performance.